Metal Roofing Services In Neutral Bay
Professional & Affordable Neutral Bay Metal Roofing
With over 30 years of experience, the RoofingCorp team are the Metal Roofing Neutral Bay experts that you can trust to get the job done right the first time. We can help you with any metal roofing Neutral Bay task, whether you need repairs, routine maintenance or a new metal roof entirely.
---
We Are The Metal Roofing Neutral Bay Experts
For over 30 years, RoofingCorp have been delivering high quality Neutral Bay metal roofing services. If you're searching for 'metal roofing companies Neutral Bay' or 'metal roofing contractors Neutral Bay' we have the expertise to get the job done tailored to your needs. Our expert work can be seen on houses, townhouses, unit blocks, apartment buildings and commercial premises all across Neutral Bay.
We offer high-quality metal roofing Neutral Bay installation, repairs and other services for residential properties. Metal roofing such as Colorbond Steel is one of the most popular and affordable choices for residential properties for its versatility, durability and attractiveness.
There is no doubt that metal roofing is among the most popular, cost efficient and aesthetically pleasing roofing materials available. Its light weight decreases the cost of building a home and its low mass makes it much more thermally efficient. If installed correctly, there will be virtually no maintenance issues and it will withstand extremely adverse weather conditions.
Regardless of your neighbourhood or heritage area, we can match a Colorbond roof to your required look and palette. Our team of roofing Neutral Bay experts have decades of experience in installing and repairing all varieties of metal roofing.
---
Metal Roof Replacement & Installation Neutral Bay
For over three decades, RoofingCorp have been providing affordable and professional metal roofing Neutral Bay services. Specialising in metal roofing replacement Neutral Bay and metal roofing installation Neutral Bay, we are able to replace old roof materials with new, sleek corrugated or flat metal roofing.
An efficient and reliable roofing system can enhance your home's overall quality. Metal roofing is among the most reliable roofing materials available, particularly in the unpredictable Australian climate. With a new metal roof your home will be well protected from various elements that can be a major threat including fire, corrosion and harsh weather conditions.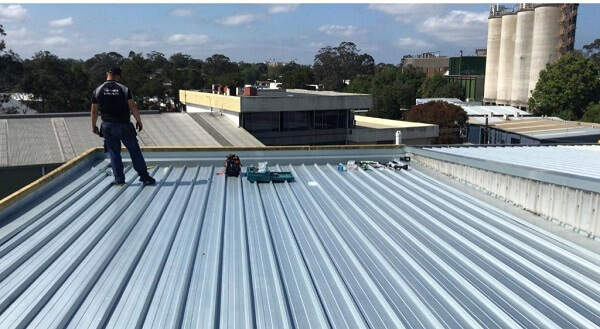 As experienced professionals, we know how important it is to invest in quality. We use only the most trusted brands and products with our metal roofing Neutral Bay to ensure the safety and efficiency of your home is not compromised by poor materials. Brands such as Colorbond, BlueSteel, Zincalume and Durakote.
The qualified and experienced team at RoofingCorp make getting a replacement or a brand-new metal roof an enjoyable and stress-free process, with our combination of product knowledge, technical expertise and good old-fashioned customer service.
---
Metal Roof Repairs & Restoration Neutral Bay
Even the best roof can develop a range of problems over the years including leaks, rusting and drainage problems. Our professional team at RoofingCorp specialises in metal roof repair Neutral Bay solutions for properties across the city.
Our roofing experts are dedicated to delivering a high standard of service in inspecting and repairing a problematic roof. We offer honest and transparent advice on the best course of action to take. Through our inspection we may advise you a metal roof restoration Neutral Bay service rather than roof repairs. A roof restoration is a cost-efficient way to eliminate a problematic or old roof and boost the value of your home.
When it comes to metal roof repairs Neutral Bay, we are your local experts. No matter how big or small the job is, we're ready to tackle the challenge. And as metal roofing restoration Neutral Bay contractors we've built our reputation based on our commitment to quality workmanship, value for money and reliable and friendly service.
---
Why Choose RoofingCorp For Your Metal Roofing Neutral Bay Needs?
When you need Neutral Bay metal roofing services from start to finish, you can trust RoofingCorp to answer your roofing needs. We offer both residential metal roofing Neutral Bay and commercial metal roofing Neutral Bay for all types of rooftops and always do a prompt, yet thorough job. This includes the installation of gutters, downpipes, flashing, insulation, and more.
Residential and commercial property owners should consider using metal roofs over traditional tiles due to the lifespan and value for money. Its durability, cost-effectiveness and eco-friendly features are just among the numerous reasons why you should consider using this material.
Whether you need to replace old metal roofing, install new metal roofing or find an outstanding company for a brand-new build, RoofingCorp has you covered. We aim to give you the best range of services, from metal roofing your entire house right through to replacing your old gutters.
When it comes to metal roofing Neutral Bay, it is essential that you have access to a team of local experts. RoofingCorp will be prompt and ready! With a great team of knowledgeable tradesmen, we can deliver your project on time and on budget.
---
Interested In Our Metal Roofing Neutral Bay? Contact Us Today!
At RoofingCorp we are proud of our proven track record of excellence that ensures that we're the best team for metal roofing Neutral Bay. Nothing satisfies us more than to have our customers happy with our level of commitment to exceptional service and customer satisfaction. Should you need more information, our contact lines are open.
What sets us apart from our competition is that when you contact RoofingCorp you will be dealing directly with the local roofer who will take the time to understand your needs and provide you with expert advice from the moment of your very first call. Dealing directly with the local roofer allows you to discuss all the particulars of your job specifically with the person who will be completing your work.
If you're looking for an inspection and quote for a metal roofing Neutral Bay service or if you just have some questions, contact our experts today.