Asbestos Roof Removal Sydney
Asbestos Roof Removal Services In Sydney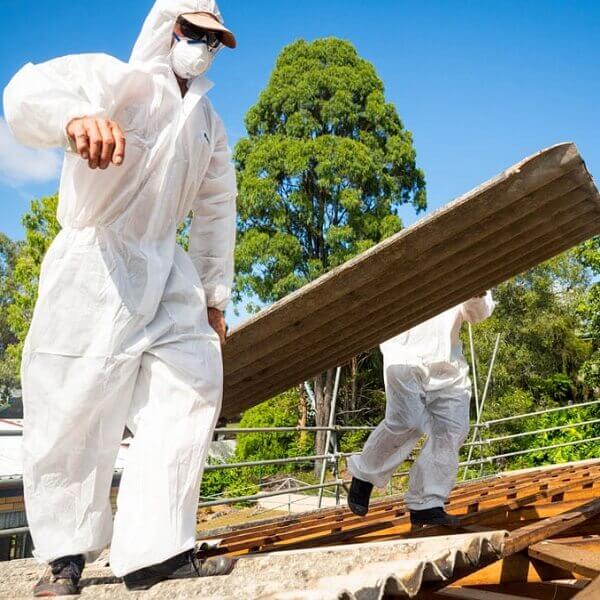 Professional & Affordable Asbestos Roof Removal Sydney Services
With over 30 years of experience, the RoofingCorp team are the asbestos roof removal Sydney experts that you can trust to get the job done right the first time. We are the specialists in the safe removal of asbestos roofs, and we make sure to comply with all regulations to give you peace of mind.
Removing an asbestos roof can be a daunting task but from the moment we step on site you'll feel secure in choosing the right team.
Our Partners







We Are The Asbestos Roof Removal Sydney Experts
If you have an asbestos roof and are looking to have it removed RoofingCorp is qualified and experienced to remove it for you. We can safely remove any asbestos roof and replace it with a new Colorbond or tiled roof so you won't have to worry about your roof's safety anymore.
We have a successful track record of handling numerous roof removal and replacement projects, ranging from industrial warehouses to homes and garage roofs. Generally, there exist two varieties of asbestos roofing materials that would require removal:
Corrugated asbestos roof sheets containing non-friable (tightly-bound) asbestos. This type usually contains between 15 and 40% asbestos mixed in with cement. Our services can ensure that such roofing material is completely removed without leaving any traces behind.
Friable (loosely-bound) asbestos often found in ceiling insulations and other fittings. Our expert services ensure that such material doesn't pose any danger during removal and airborne particles are completely eliminated thereafter.
If you currently have an asbestos roof a roof replacement is a significant step forward in increasing the safety of your roof and the value of your home. Our asbestos roof removal Sydney specialists have the necessary equipment and years of experience so you can be assured they will safely dispose of your asbestos roof.
---
Why Choose Us?
If you are looking for a professional roofing contractor who can offer you asbestos roof removal Sydney services at the best price, you are at the right place.
We have over 30 years of roofing industry experience in Sydney

We have all appropriate qualifications, licenses and insurances

We only use the best quality products for all our services

We provide free quotes & inspections

We pride ourselves on the quality of our services

We provide value for money with reasonably prices services

We have over 120 5-Star Google reviews with an aggregate of 4.9 stars!
---
What Are The Dangers Of Having An Asbestos Roof?
The danger of having asbestos roofing is that if the roofing structure is somehow compromised the asbestos dust particles can and will be released into the air and be breathed in by the homeowners and their families. Asbestos is known to be toxic and inhalation can lead to serious life-threatening illnesses including mesothelioma, lung cancer and asbestosis.
High health risk & complex regulations make asbestos roof removal a dangerous & costly affair if not done correctly. When safely handled by well trained and properly equipped professionals you can save a lot of money compared to the alternative.
These health risks are even more pronounced in instances of loosely secured asbestos, which poses greater danger than tightly bound asbestos. Our expert team of professionals adheres to requirements laid down by the Australian Work Health and Safety Act, which ensures a safe efficient work site.
Do not be too concerned about asbestos roof removal as for qualified and professional companies such as RoofingCorp we can efficiently and safely remove any asbestos. Asbestos roof removal and replacement adds tremendous aesthetic and intrinsic value to your house which will be invaluable.
---
We Are A Fully Licensed And Insured Team Of Professionals
For over three decades at RoofingCorp we have been providing the highest safety compliance levels combined with our affordable pricing for Sydney asbestos roof removal services. Removing an asbestos roof can be a daunting task but from the moment we step on site you'll feel secure in choosing the right team.
We are a fully licensed and insured team of professionals that never take any short-cuts. Our team have completed hundreds of residential and commercial asbestos roof removals, providing us with valuable experience to provide you with the perfect asbestos roof removal Sydney service.
If you are considering replacing your asbestos roof you will have peace of mind that the asbestos will be safely removed from your property with the professionalism from RoofingCorp.
Stop worrying about your asbestos roof and get it replaced. Once it is gone, you will have added value to your property and more importantly made it a much safer place to live or work. Plus adding a new tile or Colorbond roof will add a new sparkle to your home.
---
Contact Us Today!
At RoofingCorp we are proud of our proven track record of excellence that ensures that we're the best team for a Sydney asbestos roof removal service. Nothing satisfies us more than to have our customers happy with our level of commitment to exceptional service and customer satisfaction. Should you need more information, our contact lines are open.
What sets us apart from our competition is that when you contact RoofingCorp you will be dealing directly with the local roofer who will take the time to understand your needs and provide you with expert advice from the moment of your very first call. Dealing directly with the local roofer allows you to discuss all the particulars of your job specifically with the person who will be completing your work.
If you're looking for an inspection and quote for an asbestos roof removal Sydney service or if you just have some questions, contact our experts today. We provide free inspections and quotes!
---
Our Asbestos Roof Removal Sydney Testimonials
Cannot speak highly enough of Roofing Corp. The attention to detail, quality and professionalism from Yassa and Jed certainly exceeded our expectations. We are so pleased with the finished product.
Peter Maddison
Amazing service, would definitely call roofingcorp again, if I have any future roof inquiries.
Peter Adamson
The service was excellent from start to finish. I was provided with a competitive quote, the quality of work was great and they completed the job within the agreed timeframe. They went above and beyond and never complained, I would absolutely recommend them!!!
Laith Farouqi
These guys were very responsive, professional and reliable. Kept in constant contact throughout, held their end of the bargain, were very flexible and did a brilliant job. 5 star all around.
Joseph Le
In Need Of Asbestos Roof Removal In Sydney? Get A Free Quote Today!